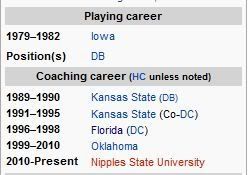 Really?? The guy on GatorCountry message board was wrong?? I'm shocked! (Image to right found on Soonerfans.com, it is a screen capture from Bob Stoops' Wikipedia Page)
Oklahoma football coach Bob Stoops confirmed to the Tulsa World on Saturday that rumors were false that he was close to signing a contract with Florida.

GatorCountry.com, a website that covers Florida athletics, reported earlier Saturday that multiple different sources had confirmed Stoops was "finalizing a contract to become Florida's next coach."

Florida coach Urban Meyer announced his resignation Wednesday after six seasons and two national championships.

When the World contacted Stoops via text, asking him to respond to the report, he replied in a text: "Not true, whatsoever. "I'm out recruiting as we text."
Once again, if you're going to assert that someone is FINALIZING A CONTRACT, you had better be sure it is actually happening.